Carbs & Cals Reviews
Our products have received over 10,000 five-star reviews!
★ ★ ★ ★ ★
Want to know what our happy customers are saying about the Carbs & Cals system? Choose a product below…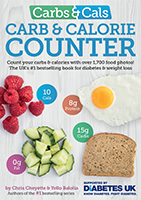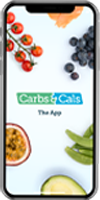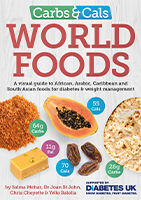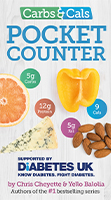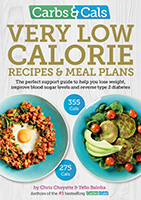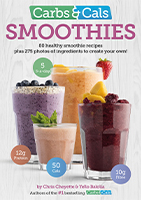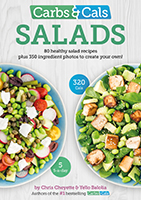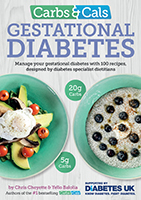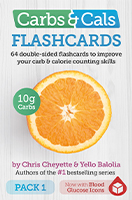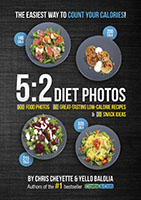 Carb & Calorie Counter
"Brilliant, brilliant, brilliant! This is a great book. It's now the shopping 'bible' and has become invaluable for checking dietary values of food. Easy to understand format, clever illustrations and brilliant portion guide. This book is a 'must' for all those who would like to know dietary values of everyday foods. It is a practically fool-proof guide for people of all ages, in order to keep fit and healthy. A great tool!"
Lucy
"I thought I was eating healthily until I saw the pictures of food on the plate! It's amazing how brilliant this visual guide is compared with just weighing and counting calories. Great book with loads of info and some eye popping eye-openers for myself and partner! I would recommend this book to everyone dieting or not."
Sandy
"This is THE book if you want to change! I've tried to lose weight forever – all the diet gizmos blah blah. This is the definitive book for health and weight loss, written by professionals who know what they are talking about. The photos are smashing, I could go on. If you seriously want to change yourself for the better, then buy this!"
Lana
"This is one of the best books I have seen! So often portion control is the key to diet (eg for diabetes etc) but to many simply referring to weights and measures doesn't help. This book has hundreds of dishes photographed in different portion sizes with the carb breakdown. Instantly you can relate to the "right" sizes and combinations of food for your meals. Brilliant job."
Fran
"If you buy any book about diet, make it this one! This is a fantastic book if you're fed up of weighing out food to maintain a healthy diet. Photos show how much of each food is healthy in simple pics – an idiots guide to portion control. Essential reading if you care about your health. More than just a book – it's an investment."
Caz
"Definitely value for money. This book is brilliant! If you think you're doing great portion control, think again. It's an eye opener! Would recommend to everyone watching their weight of trying to be more healthy."
Lou Lou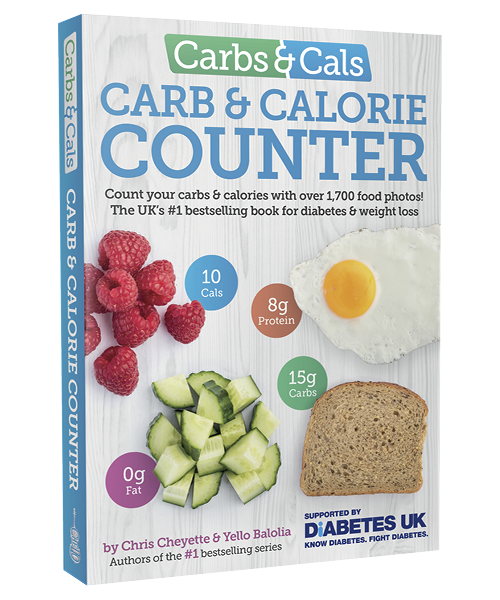 Carbs & Cals App
"Fantastic app! I have tried countless calorie / nutrition counting apps and this has to be the best I have ever tried. Really easy to log foods and drinks and count calories. Really easy to set up and personalise to your needs. Love the photos of the foods and serving sizes, which makes it so much easier to log my meals. Love this app and well worth the price!! ★★★★★"
Sparky
"I already had the book which is helpful so I decided to give the app a go. Really pleased I did! My aim is healthy and balanced eating. This app is so easy to use – it does a lot of the work for you. For me it frees up valuable time as I no longer obsess about counting calories, fat, fibre etc. I can put my energy into doing other things. I also find the visuals comparing portion sizes great for assessing how much I food I really need on my plate. Brilliant, thank you."
Talfoel
"This little app shines when others failed. You match pictures of your plate and it tracks carbs and cals. It's also supported by a host of books and recipe ideas. A lot more too, this review doesn't give it its justice. Real UK 🇬🇧 support."
Dez
"The one that works! I've tried several apps for recording nutrition. This one works. It's excellent!"
Neil
"This app is amazing! I already have the book but this is more convenient and has all the info & foods you will ever need. Five Stars… FANTASTIC!"
Donna
"Excellent carbs, cals, fats and fibre quantifier. Easy to use – takes the guesswork out and is done instantly. Brilliant!"
Sean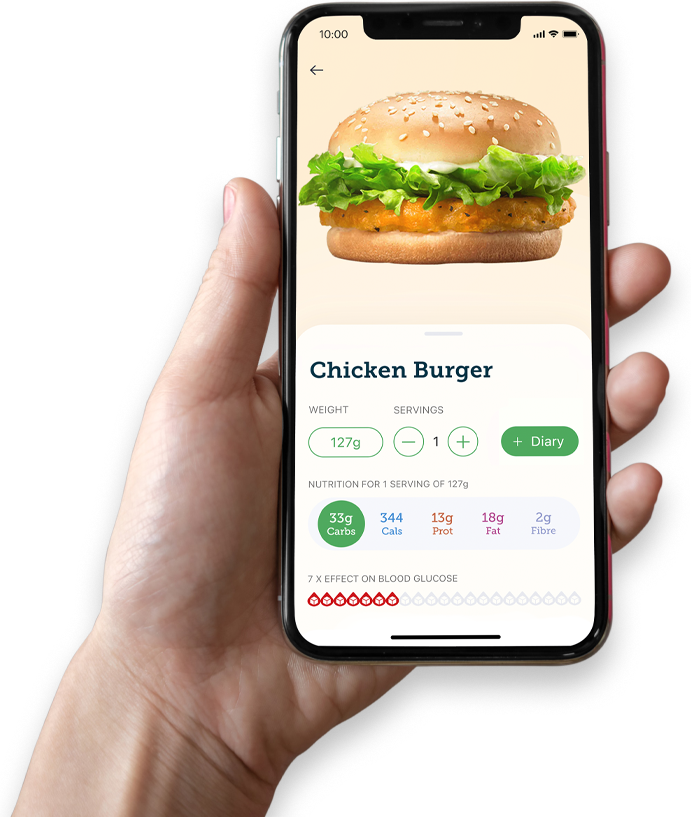 World Foods
"All information in the book was an eye opener. I am very keen on healthy eating and this book has been such a great resource. I have shared this with my family. I am grateful I came across this book when I visited my GP. Thank you!"
Aba
"Great for those who love ethnic foods. This is a fantastic book for people who not only have diabetes, but are keen to look after themselves. The book has detailed pictures so you know exactly what the food is. I particularly like how it details how much carbs, cals and fat there is in each food."
Annie
"Best carb, fat and protein counting book for all! Excellent not just for diabetics but for everyone wanting to meet health goals, and to sustain them. Also excellent for all healthcare professionals for a basic understanding of food / carbs."
Reens
"Very useful. Takes the guesswork out of calculating food which sometimes are sold without nutritional information."
Micky
"A must-have for every kitchen. Great book – so handy for every member of the household."
Shumailla
"This is a great book that actually explains the nutritional values of food I like to eat! Well written simplistic guide on a variety of ethnic dishes. If you're on a diet but love your Asian dishes then this is definitely the book for you!"
Abid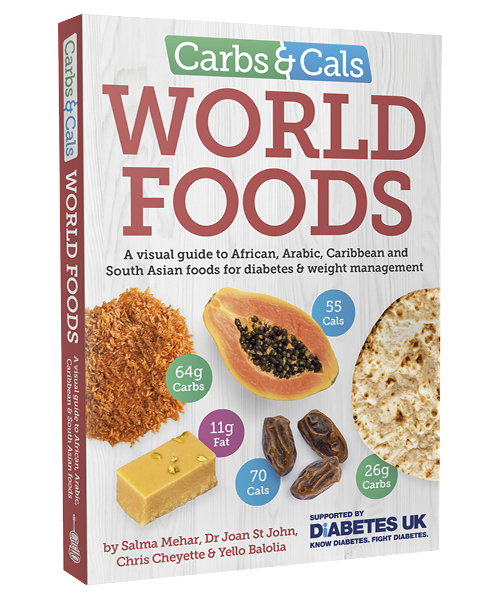 World Foods
Enjoy your favourite global dishes with the award-winning world food guide.
Carbs & Cals World Foods is packed with traditional African, Arabic, Caribbean and South Asian favourites. Created by community health experts, it helps you eat healthily and still enjoy the tastes of your culture.
Pocket Counter
"Essential for anyone who eats! Just the right size to pop in my bag, and gives details of ""eating out"" meals too! Great help in keeping my calorific intake in check. The problem of portion size is also addressed as this clever book shows a photo of every item, which is the best, virtually idiot-proof way I have ever seen to count calories!"
Anny
"Best purchase in a long time! It has become my food bible. I don't know how I have managed for so long without it! Quick and easy access to carbs and calories in one small book. I would certainly recommend it to anyone as it is very easy to understand."
Babs
"Just brilliant! Small enough to get to know the sections quickly and to leaf through easily, but has a really extensive selection of foods. Glad I bought this – been so useful already and only had it a few days."
Chrissie
"My little bible. I like the simplicity of this book – it has become such a great aid for me and small enough to chuck in any of my bags to take out with me."
Dawn
"Extremely helpful… it gives you knowledge to improve your health. Would recommend!"
Charlie
"Just what the doctor ordered! Ideal pocket counter = goes with me everywhere!"
Joyce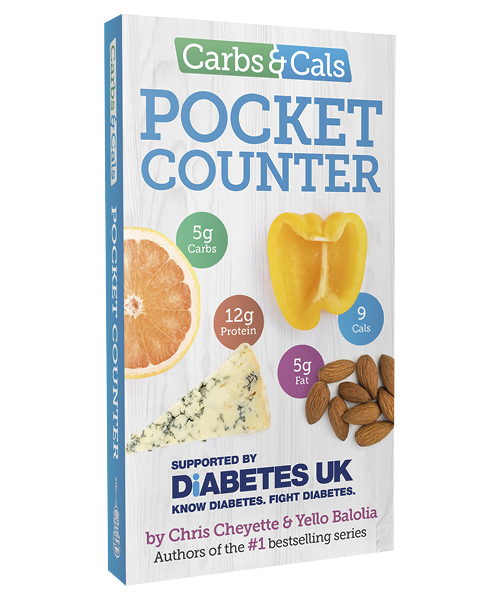 Very Low Calorie Recipes & Meal Plans
"Best Book I Have Ever Bought. I loved the fact the recipes are for one, which is unusual. The prepared food actually looks like the pictures. Easy to follow and I have lost over 3 stones using this book. Thank you!"
Mrs D
"Brilliantly easy! Love this book!! Uses ingredients I usually have at home, so it's not complicated. I have a lot of these sorts of books, but this is the easiest to negotiate and the one most used in my kitchen. The other books are good – this is the best tho! I don't usually write reviews but if you want something useable, visual, uncomplicated… I highly recommend this book."
Kate
"Great little recipe book. Lost a stone in 4 weeks on this healthy lifestyle, and I am now in normal BMI range! Thank you."
Granma K
"This is my diet bible – it has been a great help and combined with exercise I have lost 9 lbs in 6 weeks!"
Mrs J
"Helps with my calorie controlled diet, especially as I have diabetes. I have lost over 3 stone in 4 months!"
Mrs R
"With this book I've lost a stone in weight without starving myself. The pictures in the book are a great help."
James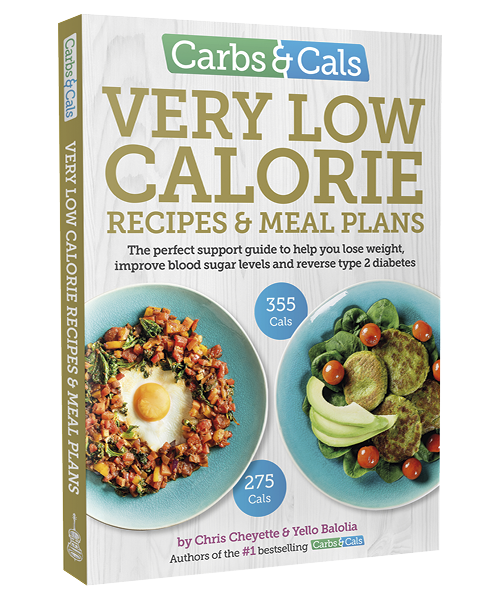 Very Low Calorie Recipes & Meal Plans
Lose weight and reduce the risk of type 2 diabetes.
Very low-calorie diets are a powerful tool for managing weight and minimising type 2 diabetes risk. With tasty recipes, satisfying snacks and dietitian-created meal plans, enjoying the benefits of low-calorie eating is easier than ever.
Smoothies
"This book is AMAZING for anyone who lives a very busy life but wants to maintain a healthy diet! The nutritious and tasty recipes are very easy to follow and quick to do! They offer great ideas to kick start your day and fuel a healthy body and busy mind. Following these recipes for 2 weeks boosted my immune system and ability to concentrate throughout the day. I highly recommend this book!"
Amanda
"I've had a few smoothie books in the past, and this is definitely the best. I love the layout – showing you photos of each portion and displaying the nutritional content. You can plan your smoothie regime according to your needs (e.g. low carbs, low calorie or high protein). I'd definitely recommend this book."
Andrew
"The pictures and minimum prep make it easy to understand! The series of books is a real eye opener to how quick and simple it can be to knock up wholesome recipes for a more healthier lifestyle."
Viv
"Easy smoothies! Before getting this book I wasn't sure if I could be bothered to make my own smoothies. These recipies have opened my eyes and tastebuds to a fantastic range of flavours. The smoothies are easy to make and the nutritional info accompanying each is great. Great for identifying all those hidden calories. Fantastic!"
Gina
"I am rubbish at figuring out calories. As a perpetual dieter with no willpower, I expected this book to be 'only for intelligent eaters'. Imagine my surprise when I found that I could follow the recipes and enjoy them! My bum and hips owe their new smooth look to the authors! Whether you are looking to lose weight, seek better nutrition or get inspiration, this book is for you. I am fully converted, grateful and feeling very inspired. This book is a must buy!"
Kirsten
"Fantastic! This book is amazing. It has everything you need to make a healthy change. The recipes are very tasty. Added to regular exercise you will both see and feel the benefits. If you don't buy this you're a fool!"
Steven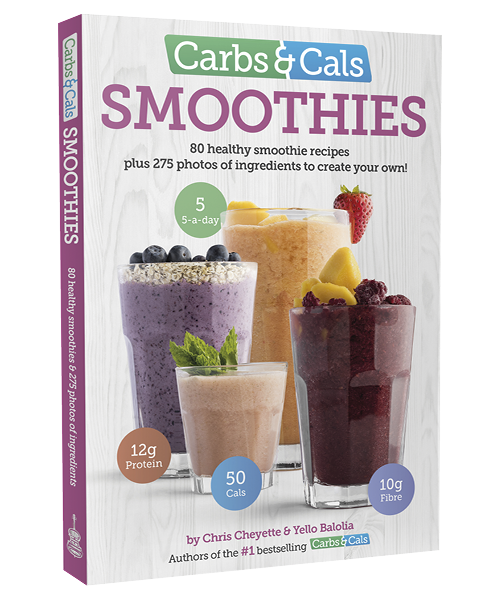 Salads
"This is the best healthy food book by far. Not only does it have loads of great recipes, it shows protein, fat and fibre content too. Also lots of photos and info on portions, dressings, sauces, 5 a day. Am using the book all the time not just for salads. Brilliant!"
Mrs M
"Wow!!!!! A stunning book of beautiful photos, inspires one to eat it all. A great deal of nutritional info. It's packed with lovely salads, dressings and more and more. I would thoroughly recommend this book. If you up for a salad book this might be the one for you!"
Jennifer
"Fabulous Salads. The best salad recipe book I've seen! Healthy doesn't mean the same old, same old. Looks good and the calorie counts really useful. The range of salads one can use is really imaginative. Just love it!"
Caitlin
"One of the best recipe books I've ever purchased (and I confess, I buy a few). So much variety for watching intake of nutrients and calories. Lovely, easy and great photos. I have the smoothie book and it is excellent too. Highly recommend if you are trying to lose weight, add variety to meals, learn about portion sizes. These salads are really tasty too!"
Natasha
"I like this book for the variety of salads, which are grouped by category – high fibre, 5 a day, low calorie, etc. At any time you can construct a salad which meets your particular requirements."
Rodney
"Great recipes to help me lose the weight in the right way, and live a healthy lifestyle. Stay healthy!"
Hanson
Soups
"I have really enjoyed making these easy, tasty soups – you will find some interesting twists on old favourites as well as exciting new combos. I often make a soup to control calories, save time during the week and ensure I get good nutrition. Easy to follow and has all the nutritional info you need. Unlike other books, it consistently and clearly shows portion size, calories and a 5-a-day, so it's easy to make sure you're getting what you need. Highly recommended whether you're actively monitoring your nutrition, trying to get in shape or just love soup!"
Stella
"I have purchased several soup books with mixed results over the past few years, so I wasn't wildly optimistic about this one. However I have now made 4 healthy, nutritious and delicious soups and am very pleasantly surprised! They are not just tasty but the pictures look appetising and info on calories and nutritional values are superb too. It is a fantastic book for soups and the recipes are lovely whether you are watching your weight or not. Brilliant book and a very happy customer."
Chopsy
"Creative, healthy soups, hurrah! I like the structure based on your nutritional focus and I am already using it regularly. Really interesting soups – it's hard to be creative and healthy!"
Charles
"This soup book is great. It shows nutritional info and how soups can play an important part in healthy eating. It fits really well alongside all the other Carbs & Cals books, in particular at pre-diabetes and diabetes, but are also an easy way to eat healthily and lose weight. My soup maker is out of the cupboard ready to make filling, nutritious, tasty soups."
Mel
"I have purchased all the books in the Carbs & Cals series. They are fantastic. Great recipes and so easy to follow. The book is beautifully photographed. I am interested in easy healthy and low calorie foods and meals. I would certainly recommend it – you just can't go wrong in producing food that is well thought out, tasty and healthy."
Trudy
"Plenty of interesting recipes and helpful if you're looking to improve your diet."
Robert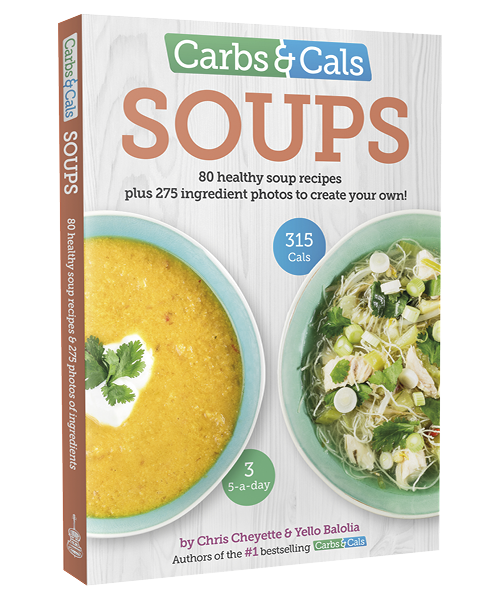 Gestational Diabetes
"An absolute life saver during my pregnancy! When diagnosed with gestational diabetes I was totally clueless and scared to eat anything. This wonderful book took away all of that and made meal and snack times easier again. I have literally used it every single day! No idea what I would do without it, as I'd just be guessing the carbs! I plan to use this book after my pregnancy as it's just so useful! I highly recommend, as it has made my pregnancy a whole lot easier."
Mrs G
"Brilliant photographic aide if you are diagnosed with gestational diabetes. This book is a life-saver including recipes and visual guides to all the carbohydrates."
Sophy
"I have tried quite a few recipes so far and I love being able to look up the carb content in foods easily. I am usually an online person but love having an actual book to refer to when my toddler hijacks my phone!"
Lu
"Such a brilliant book to help you understand the correct nutrition for your body when you have gestational diabetes. I highly recommend it!"
Emily
"Easy-to-use guide with tasty budget-friendly recipes. This is a great guide and helped me visualise portion sizes, and contains easy recipes and meal plans. I will be using this post-pregnancy also."
Jess
"This book was recommended by the health service to my wife. It's very useful to plan your diet. We definitely recommend."
Jakir
"Bought this for my daughter as she has gestational diabetes. She finds it very helpful with all the information and portion sizes. The recipes are good and easy to follow – she loves it."
Rosie
"Brilliant book! Love the pictures. Really easy-to-use reference guide. Use it most meal times. Full of useful ideas and info."
Louise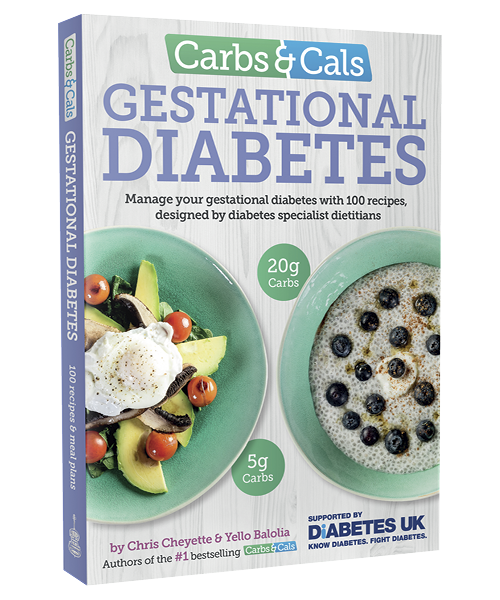 Gestational Diabetes
How to manage gestational diabetes for a healthy, happy pregnancy.
You want the very best for your baby, so a diagnosis of gestational diabetes is naturally worrying. Carbs & Cals Gestational Diabetes is your expert diet sidekick, showing you exactly how to manage gestational diabetes and give your baby the healthiest possible start.
Flashcards
"Great help in understanding the food we eat when we are on a healthy eating diet. Well worth the money – highly recommend!"
Michael
"More than pleased with these excellent quality cards! Informative and presented in a way that helps me feel confident to begin the journey of understanding calorie content and portions!"
Christine
"Very good and clear. Helps me with the amount of food, as what I thought was a little amount actually turned out to be a huge portion of food!"
Beverley
"Helps dieters immensely! This is fantastic – gives you a good idea of correct portion size whilst dieting. I love the fact it shows this through photos, and amount of fat and calories are underneath the photos."
Mel
"Brilliant, informative, wipe clean… and very helpful!"
Susan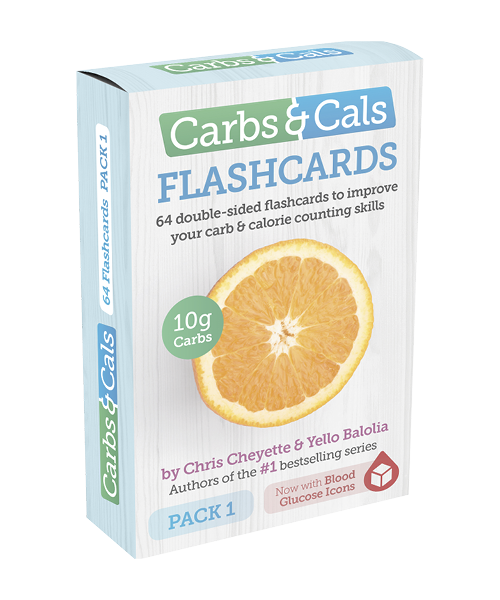 Flashcards
The easiest, most effective way to build your nutrition knowledge.
Based on the bestselling, award-winning book series, Carbs & Cals Flashcards features 192 full-colour cards with all your favourite foods and drinks. The easiest way to learn calorie and nutrient counts, sharpen your skills and test your nutrution knowledge.
5:2 Diet Photos
"Incredible little book. The 5:2 has changed our eating habits, the way we think about food, reduced our shopping bill and how much we throw away. Our health is MILES better. You see the difference very quick in your weight and on the scale! Hurrah! Overall this is so worth the money for what it offers. Brilliant!!"
Kenny
"Great book. Helped me and husband lose 1 stone so far each. Recipes are delicious, which helps me survive the two diet days. The rest of the time I eat what I like and still lost the weight. Recommend to anyone thinking of starting the diet."
Mrs Y
"Have used this book for a year now because it has such great recipes for 5:2 days. Would have given up the diet very quickly without it out of boredom. Thoroughly recommend this book for anyone opting for the 5:2. The diet works and the book works – so give it a go."
Chase
"Great photos, great book! Visually seeing portion sizes with the calories actually makes you think about what you are eating. The recipes are tasty… if I'm going to eat less, I want to eat something nice! Has been great as I've lost about a stone! Would definitely recommend!"
Ryan
"Having recently had twins, I was keen for something to kickstart Project Pre-baby Body. The 5:2 diet was perfect and this book is awesome because it's got a super-visual fuss free approach! No muddling about what you should eat because it's all there in front of you. A must-buy 5:2 book!!"
Kelly
"Very inspiring. Lost 12 pounds in a couple of months with a weekend away in between… Five Stars!"
Liz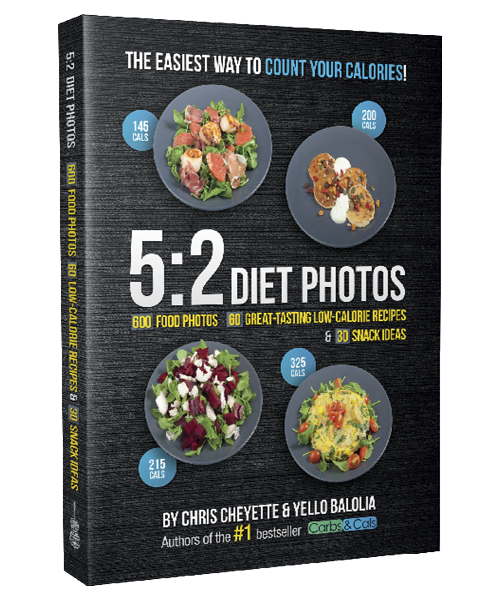 5:2 Diet Photos
The easiest way to count calories and eat well on the 5:2 diet.
Wondering what you can eat on the 5:2 diet? More than you think! 5:2 Diet Photos is packed with tasty, nutritious and satisfying meal ideas that won't blow your calorie budget.
This is your definitive guide to enjoying every bite on the 5:2 diet!