Unbeatable Variety
1700+ Food &
Drink Photos
Carb & Calorie Counter is one of the only calorie and nutrient guides to feature food photos.
In fact, we've packed more than 1700 of them into this one handy book!
Individual foods and ingredients.
Popular dishes, spreads and sauces.
Fast food, takeaways and snacks.
Vegetarian and gluten-free options.
Whether you're cooking up a storm or ordering in, you'll be sure to find your favourite foods and drinks inside.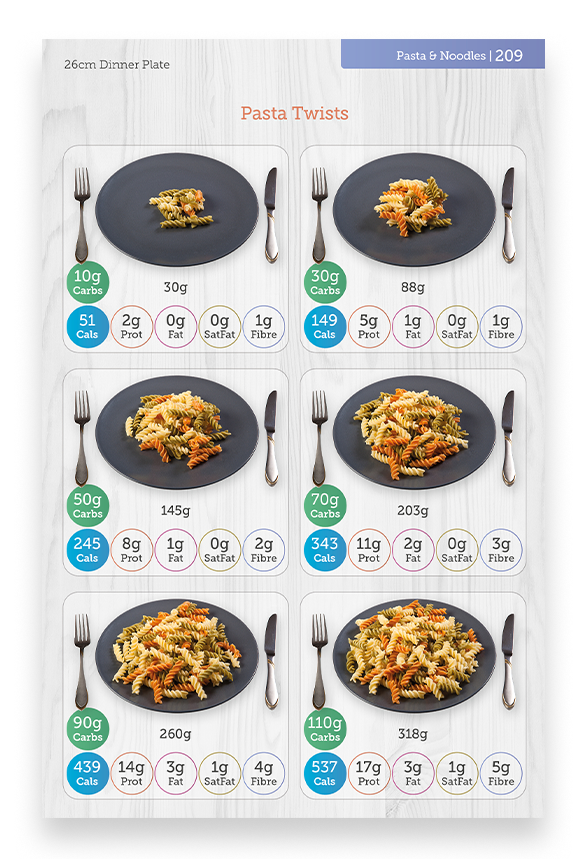 Portion Power
Six Portions
Per Food
Measuring portions and calculating nutrients can be tricky, but that shouldn't stop you from enjoying your food!
Carb & Calorie Counter shows the calorie and nutrient content for up to 6 portion sizes per food. Simply compare your plate and check the nutrient count for easy, intuitive portion control.
Reviews
Don't just take our
word for it.
"Brilliant, brilliant, brilliant! This is a great book. It's now the shopping 'bible' and has become invaluable for checking dietary values of food. Easy to understand format, clever illustrations and brilliant portion guide. This book is a 'must' for all those who would like to know dietary values of everyday foods. It is a practically fool-proof guide for people of all ages, in order to keep fit and healthy. A great tool!"
Lucy
"I thought I was eating healthily until I saw the pictures of food on the plate! It's amazing how brilliant this visual guide is compared with just weighing and counting calories. Great book with loads of info and some eye popping eye-openers for myself and partner! I would recommend this book to everyone dieting or not."
Sandy
"This is THE book if you want to change! I've tried to lose weight forever – all the diet gizmos blah blah. This is the definitive book for health and weight loss, written by professionals who know what they are talking about. The photos are smashing, I could go on. If you seriously want to change yourself for the better, then buy this!"
Lana