Carb-Controlled Recipes
80 Nutritious


Tasty Recipes
It can be hard figuring out what food to eat and how it affects your blood sugar.
To make things a little easier, we've prepared 80 delicious, carb-controlled recipes to nourish both you and your growing baby.
Hearty curries and stews.
Nutritious salads and stir-fries.
Quick and easy to prepare.
Nutritionally balanced & carb-counted.
Created by dietitians.
Vegetarian and vegan options.
Beautiful full-colour meal photos.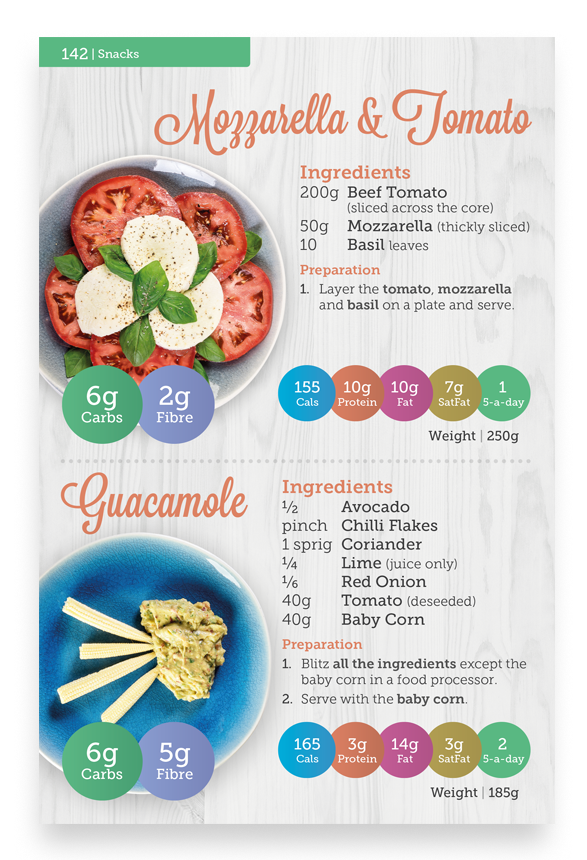 Snacking Made Simple
20 Satisfying

Snack Ideas
Eating a carb-controlled diet doesn't have to mean giving up snacks. We've packed in 20 satisfying, blood-sugar-friendly snacks to reach for when you're feeling peckish.
20 delicious carb-controlled snacks.
Quick and easy to prepare.
Packed with nutrients for you and baby.
Part of your 5-a-day.
Beautiful full-colour photos.
Carb-Count Your Own Recipes
430 Individual


Food Photos
Got some favourite recipes of your own? With pages and pages of popular ingredients,
Carbs & Cals Gestational Diabetes
will show you how to easily count the carbs in any recipe and adapt it to your dietary needs.
430 individual ingredients.
Fruits and veggies.
Fats, grains and proteins.
Nuts, seeds, legumes and pulses.
Full-colour photos.
Multiple portion sizes for easy, at-a-glance measuring.
Easy-to-read, colour-coded nutrients.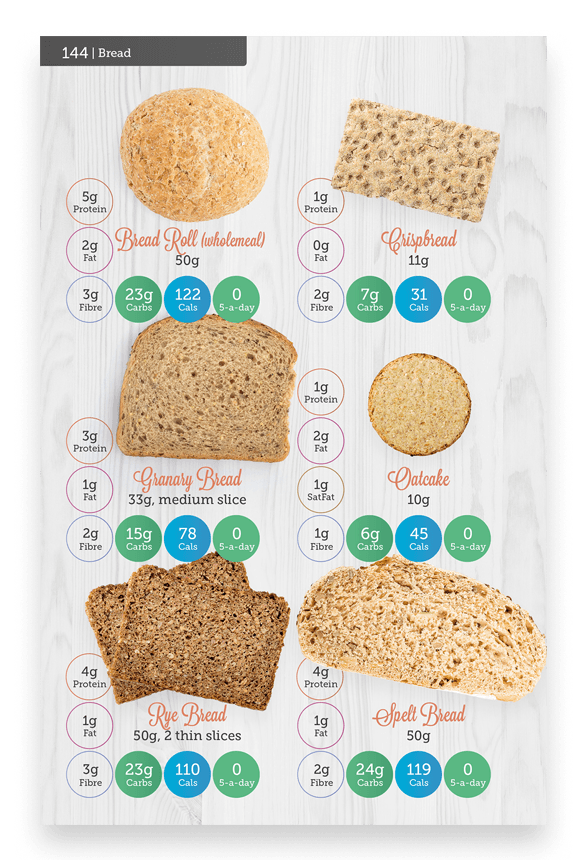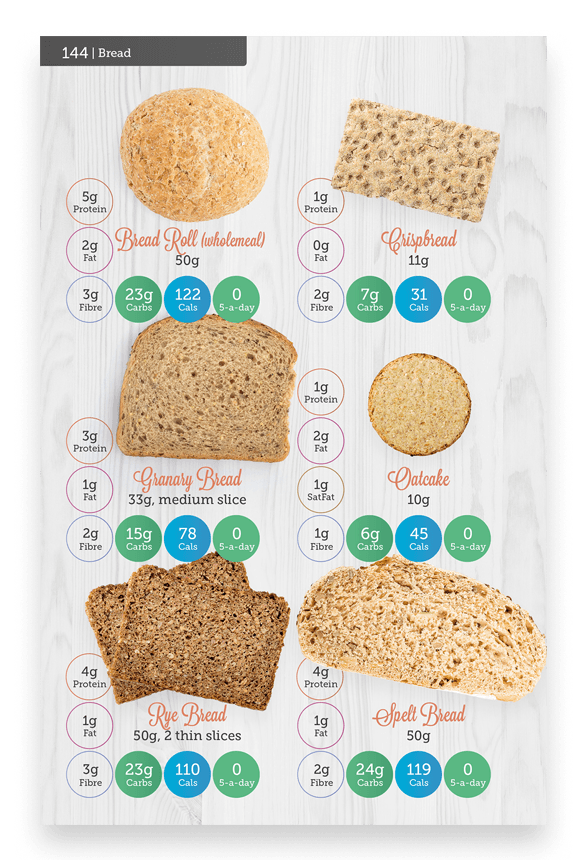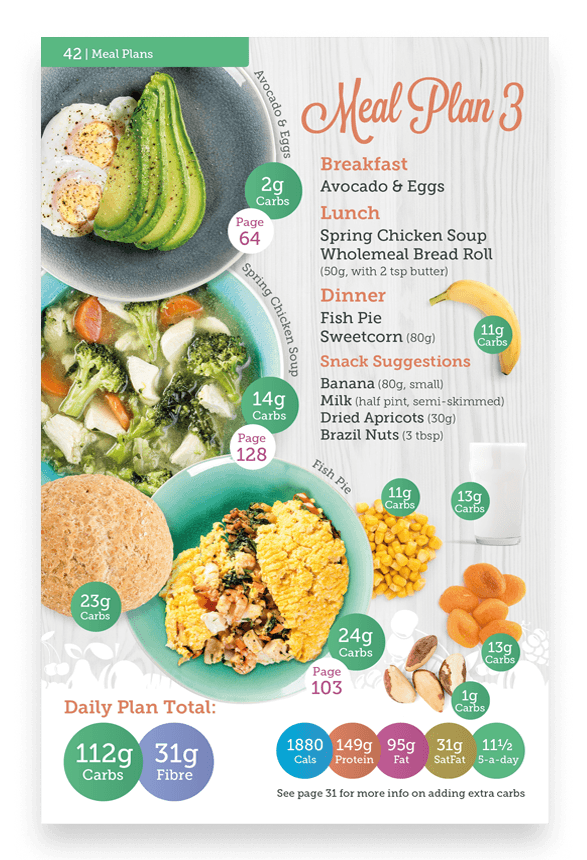 Nutritious Daily Meal Plans
14 Done-for-You

Meal Plans
Gestational diabetes means your daily diet takes a little extra planning. For those days when you don't have the time or the energy, we've done the work for you!
Choose from 14 carb-controlled plans.
Breakfasts, lunches, dinners & snacks.
Easy-to-follow recipes.
Low blood sugar impact.
Varied, nutritious and delicious.
Created and approved by dietitians and gestational diabetes experts.
Full colour-coded nutritional info.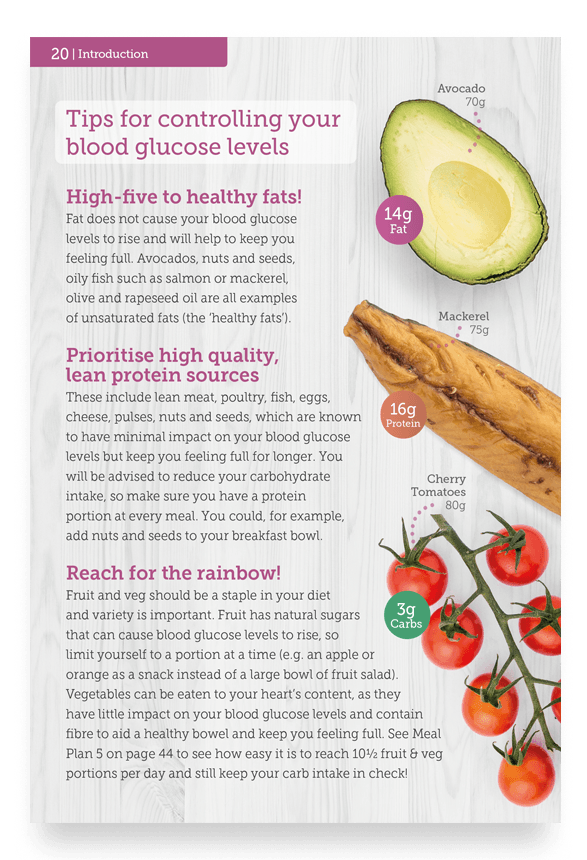 Created by Diabetes Experts
Advice You Can
Trust
When it comes to your baby's health, you want to know that you're getting evidence-based, expert advice. That's exactly what you'll find inside Carbs & Cals Gestational Diabetes.
Created by gestational diabetes experts and specialist dietitians.
Supported by Diabetes UK and used in NHS settings.
Explains gestational diabetes and blood sugar in clear, simple terms.
Features realistic, easy-to-follow advice on diet and physical activity.
Offers guidance on staying healthy throughout pregnancy and beyond.
Reviews
Don't just take our
word for it.
"An absolute life saver during my pregnancy! When diagnosed with gestational diabetes I was totally clueless and scared to eat anything. This wonderful book took away all of that and made meal and snack times easier again. I have literally used it every single day! No idea what I would do without it, as I'd just be guessing the carbs! I plan to use this book after my pregnancy as it's just so useful! I highly recommend, as it has made my pregnancy a whole lot easier."
Mrs G
"Brilliant photographic aide if you are diagnosed with gestational diabetes. This book is a life-saver including recipes and visual guides to all the carbohydrates."
Sophy
"I have tried quite a few recipes so far and I love being able to look up the carb content in foods easily. I am usually an online person but love having an actual book to refer to when my toddler hijacks my phone!"
Lu