Recipe Inspiration
75 Satisfying


Low-Calorie Recipes
You'd be surprised at just how many tasty, satisfying recipes you can enjoy on a very low-calorie diet.
We've packed 75 of them into this guide to keep every meal interesting!
All between 35 – 480 calories.
Quick and easy to prepare.
Tasty, nutritious ingredients.
Vegetarian and vegan options.
Created by dietitians.
Beautiful full-colour photos.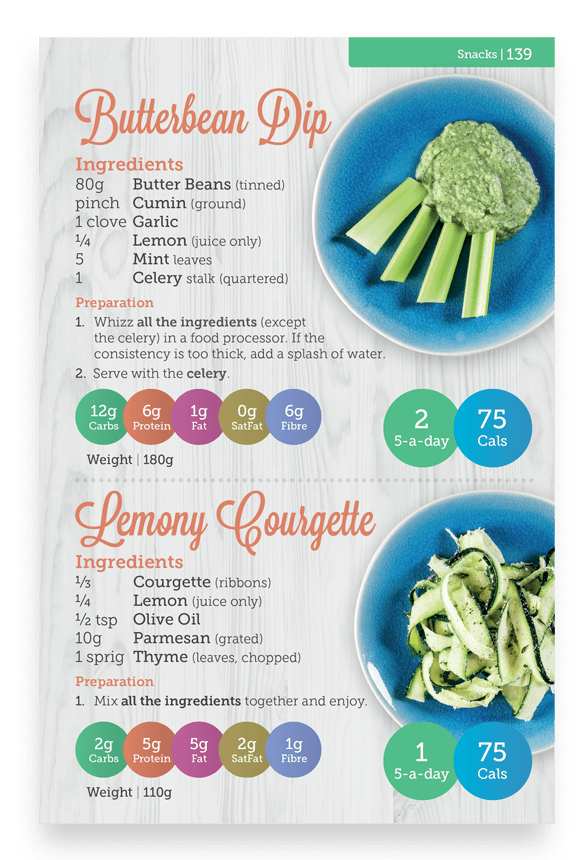 Feeling Peckish?
20 Quick and Tasty Snacks
Thought snacks were a thing of the past? Not so fast! We'll show you how to make room for tasty, nutritious snacks on your very low-calorie diet.
20 delicious low-calorie snacks.
All under 120 calories.
Quick and easy to prepare.
Nutritious and satisfying.
Part of your 5-a-day.
Full-colour photos.
Get Creative With Confidence
330 Individual
Food Photos
Want to whip up some low-calorie recipes of your own?
Very Low Calorie Recipes & Meal Plans
features all your favourite ingredients so you can get creative in the kitchen.
330 individual ingredients.
Fruits and veggies.
Fats, grains and proteins.
Nuts, seeds, legumes and pulses.
Full-colour photos.
Multiple portion sizes for easy, at-a-glance measuring.
Easy-to-read, colour-coded nutrients.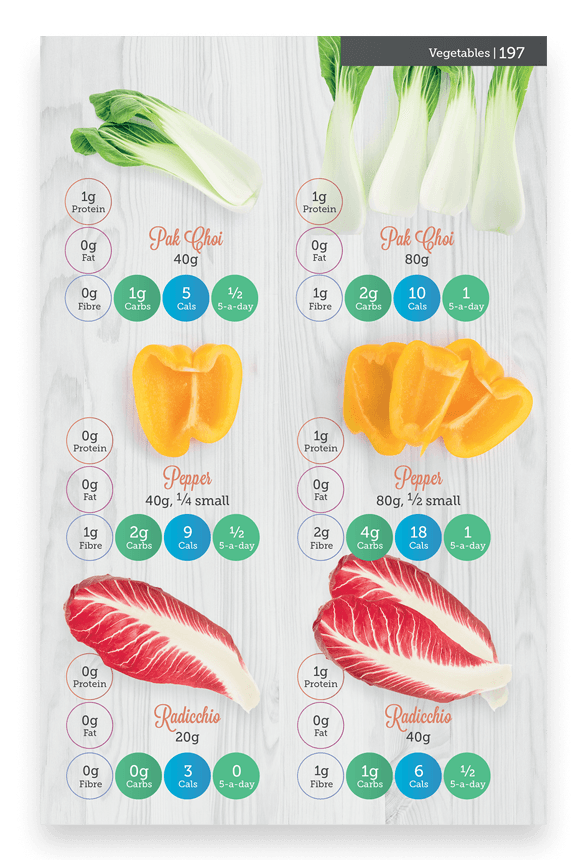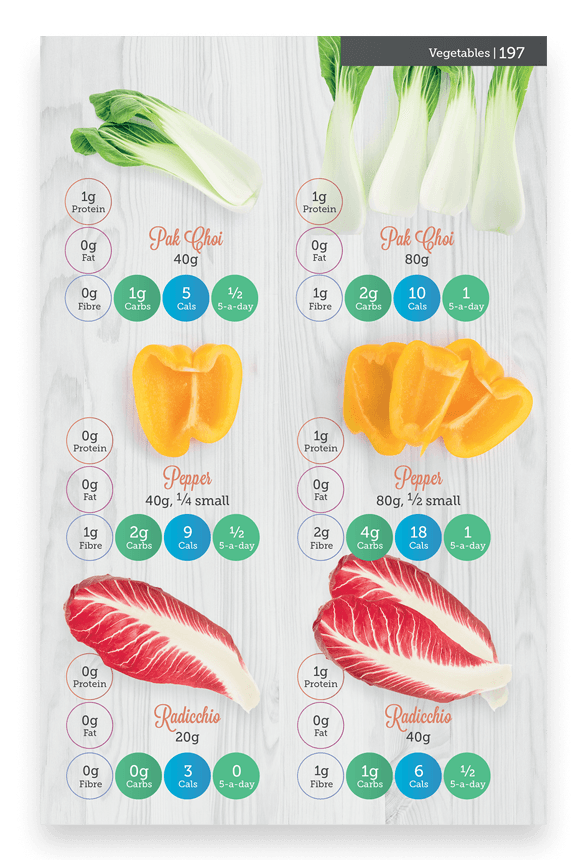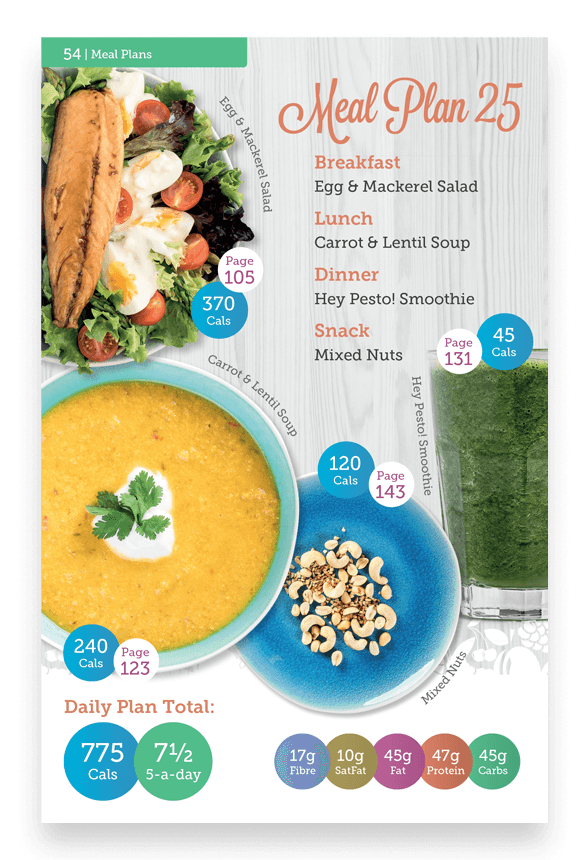 Balanced Daily Meal Plans
30 Done-for-You

Meal Plans
When you're short on time or stuck for ideas, try one of our pre-designed meal plans. We've done the sums for you, so all you have to do is follow the day's recipes and enjoy!
30 balanced, nutritious daily plans.
Created by dietitians.
Easy-to-follow recipes.
Varied and satisfying.
Full colour-coded nutritional info.
All under 800 calories per day.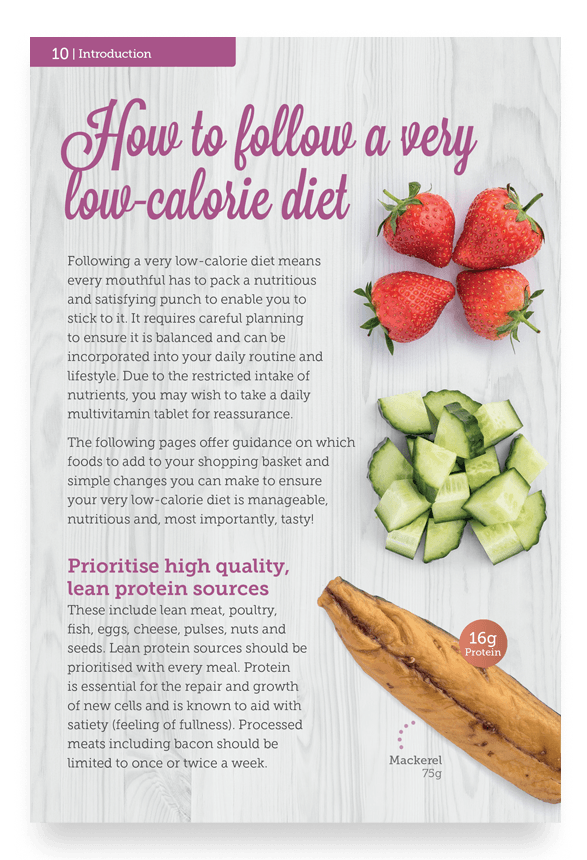 Created by Health Experts
Advice You Can
Trust
Nutritional advice is everywhere, but it can often be conflicting, confusing and hard to apply to your everyday life. Why is Very Low Calorie Recipes & Meals Plans different?
Created by health experts and registered dietitians.
Used in NHS settings.
Based on strong scientific evidence.
Explains weight loss and nutrition in clear, simple terms.
Realistic, easy-to-follow guidance.
Reviews
Don't just take our
word for it.
"Best Book I Have Ever Bought. I loved the fact the recipes are for one, which is unusual. The prepared food actually looks like the pictures. Easy to follow and I have lost over 3 stones using this book. Thank you!"
Mrs D
"Brilliantly easy! Love this book!! Uses ingredients I usually have at home, so it's not complicated. I have a lot of these sorts of books, but this is the easiest to negotiate and the one most used in my kitchen. The other books are good – this is the best tho! I don't usually write reviews but if you want something useable, visual, uncomplicated… I highly recommend this book."
Kate
"Great little recipe book. Lost a stone in 4 weeks on this healthy lifestyle, and I am now in normal BMI range! Thank you."
Granma K