Sensational Salads
80 Tasty Salad
Recipes
Salads don't have to be boring!
Carbs & Cals Salads is packed with easy-to-make salad recipes that look and taste fantastic.
80 mouth-watering salad recipes created by dietitians.
The perfect dressing to complement each recipe.
Clear, colour-coded nutrient counts on every page.
Veggie, vegan, meat & seafood options.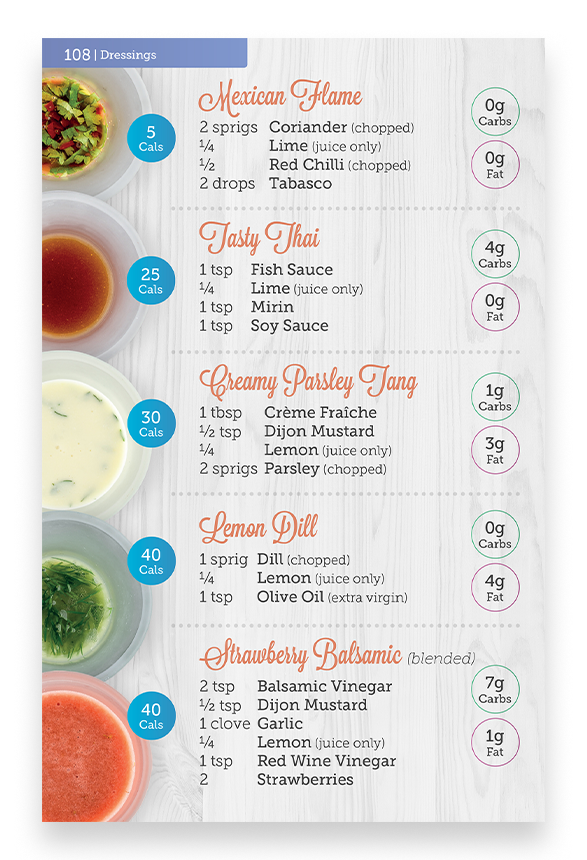 Dressed To Impress
20 Delicious
Dressings
Add the perfect finishing touch with a low-effort, high-flavour dressing. Carbs & Cals Salads features dietitian-approved, nutrient-counted dressings to supercharge any salad!
20 delectable dressings.
Choose from spicy, tangy, creamy, herby or fruity dressings.
Colour-coded nutrient info for carbs, calories and fat.
Quick and simple to make.
Get Creative With Confidence
350 Individual
Ingredients
Want to mix it up? Carbs & Cals Salads also features hundreds of individual ingredients so you can create your own tasty, nutrient-counted recipes.
350 individual ingredients.
All your favourite veggies, fruits, nuts, seeds and proteins.
Ingredients for dressings and toppings.
Multiple portion sizes per ingredient.
Easy-to-read nutrient counts.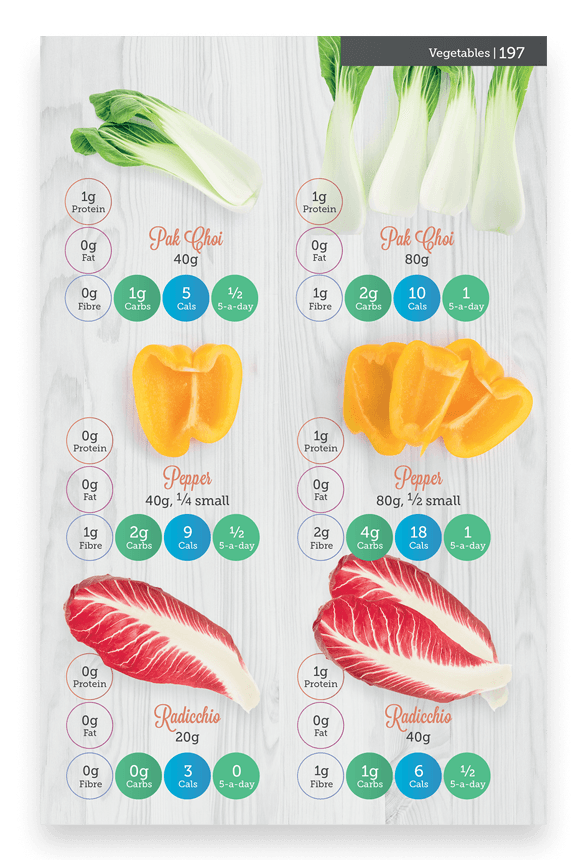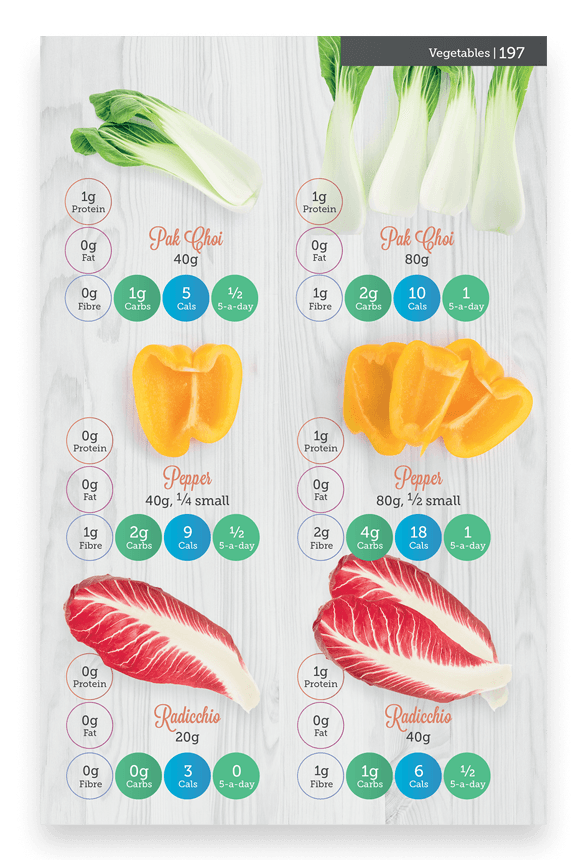 Reviews
Don't just take our
word for it.
"This is the best healthy food book by far. Not only does it have loads of great recipes, it shows protein, fat and fibre content too. Also lots of photos and info on portions, dressings, sauces, 5 a day. Am using the book all the time not just for salads. Brilliant!"
Mrs M
"Wow!!!!! A stunning book of beautiful photos, inspires one to eat it all. A great deal of nutritional info. It's packed with lovely salads, dressings and more and more. I would thoroughly recommend this book. If you up for a salad book this might be the one for you!"
Jennifer
"Fabulous Salads. The best salad recipe book I've seen! Healthy doesn't mean the same old, same old. Looks good and the calorie counts really useful. The range of salads one can use is really imaginative. Just love it!"
Caitlin