Carbs & Cals HCP Poster Set
Used by Diabetes HCPs Nationwide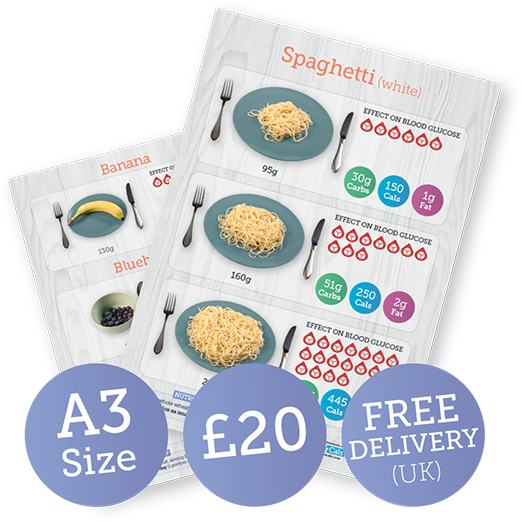 As a HCP supporting people with diabetes, you know that learning to manage type 1, type 2 or gestational diabetes can be challenging. HCPs throughout the UK use the Carbs & Cals Poster Set to help patients:
Develop skills like carb counting, calorie counting and portion control.
Make sense of nutritional info and dietary needs.
Understand the blood glucose effect of popular foods.
Display these easy-to-read A3 posters in patient areas or use them as learning tools in individual and group sessions.
Easy, Visual Education Tool
Simplifying Management
The Carbs & Cals HCP Poster Set includes 10 full colour A3 posters featuring:
Photos of 16 popular foods and drinks.
Up to 3 portion sizes per food.
Clear, colour-coded values for carbs, calories and fat.
Icons showing blood glucose effect.
A carb and glucose explainer sheet.
Nutrition tips and recommendations.
Further Carbs & Cals resources for HCPs and people with diabetes.
Click to order your pack of 10 posters now for just £19.99 and get free UK delivery.