Stunning Soups
80 Sublime Soup Recipes
Making healthy soups doesn't have to be time-consuming!
Carbs & Cals Soups is packed with simple, quick-to-make soup recipes that look and taste great.
80 mouth-watering soup recipes created by dietitians.
Clear, colour-coded nutrient counts on every page.
Veggie, vegan, meat & seafood options.
Nutrition facts and recipe tips.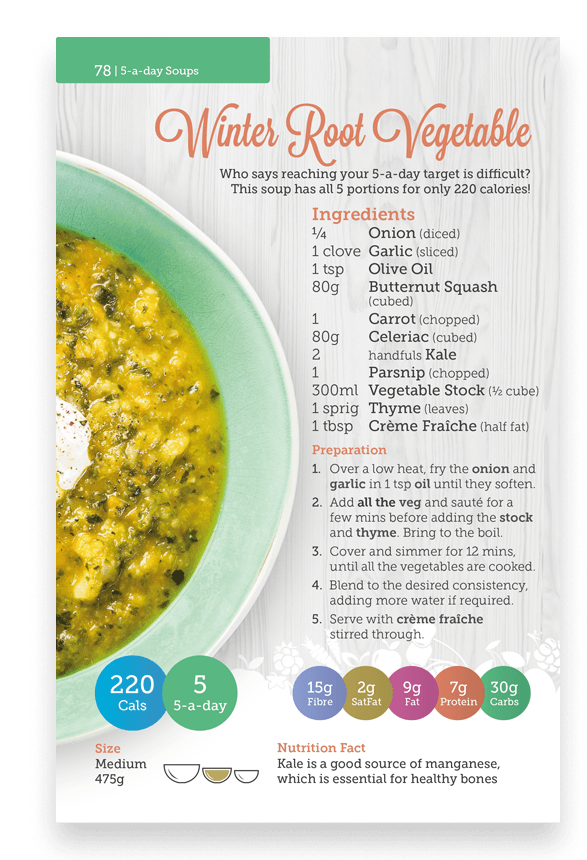 A Helping Hand for 5-a-day Fruit & Veg
10 Super


5-a-day Soups
Two thirds of people don't achieve the 5-a-day fruit & veg target. Soups are an excellent way for you to beat the statistics and achieve yours!
10 tasty mega-veg soups.
All 5 of your 5-a-day in a single bowl!
Ranging from 200 to 500 calories.
Lower carb options (from 27g carbs).
Create With Confidence
275 Individual


Ingredients
Feeling inspired? Carbs & Cals Soups also features hundreds of individual ingredients so you can create your own nutrient-counted soup recipes.
275 individual ingredients.
All your favourite veggies, nuts, seeds and proteins.
Ingredients for flavourings & toppings.
Multiple portion sizes per ingredient.
Easy-to-read nutrient counts.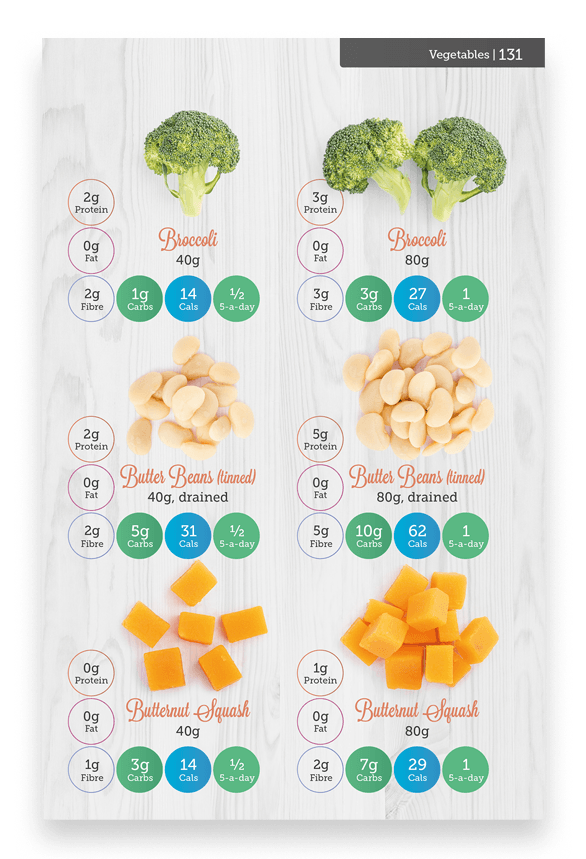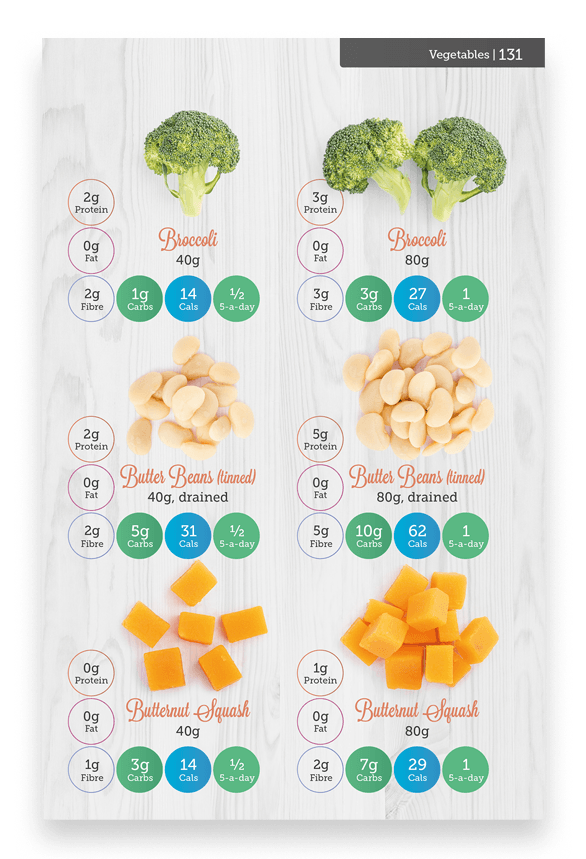 Reviews
Don't just take our
word for it.
"I have really enjoyed making these easy, tasty soups – you will find some interesting twists on old favourites as well as exciting new combos. I often make a soup to control calories, save time during the week and ensure I get good nutrition. Easy to follow and has all the nutritional info you need. Unlike other books, it consistently and clearly shows portion size, calories and a 5-a-day, so it's easy to make sure you're getting what you need. Highly recommended whether you're actively monitoring your nutrition, trying to get in shape or just love soup!"
Stella
"I have purchased several soup books with mixed results over the past few years, so I wasn't wildly optimistic about this one. However I have now made 4 healthy, nutritious and delicious soups and am very pleasantly surprised! They are not just tasty but the pictures look appetising and info on calories and nutritional values are superb too. It is a fantastic book for soups and the recipes are lovely whether you are watching your weight or not. Brilliant book and a very happy customer."
Chopsy
"Creative, healthy soups, hurrah! I like the structure based on your nutritional focus and I am already using it regularly. Really interesting soups – it's hard to be creative and healthy!"
Charles